Big Announcement!

EVPAD Tablet Eplay i8,a wonderful TV Tablet,is launching at the moment,you can watching your favorite program at any time and anywhere,it also can broadcast on a big TV screen easily but just need an HDMI Cable,got it and have fun soon!

EVPAD Tablet Eplay i8 is not only a flat panel but also a portable TV. It can not only watch your favorite movies and TV programs conveniently and quickly but also use the big TV screen to share happiness with your family. It is definitely your value-for-money choice!

10.1-inch Latest World HD tv with Bluetooth, Singapore Android Box with japan Malaysia HK Korea channel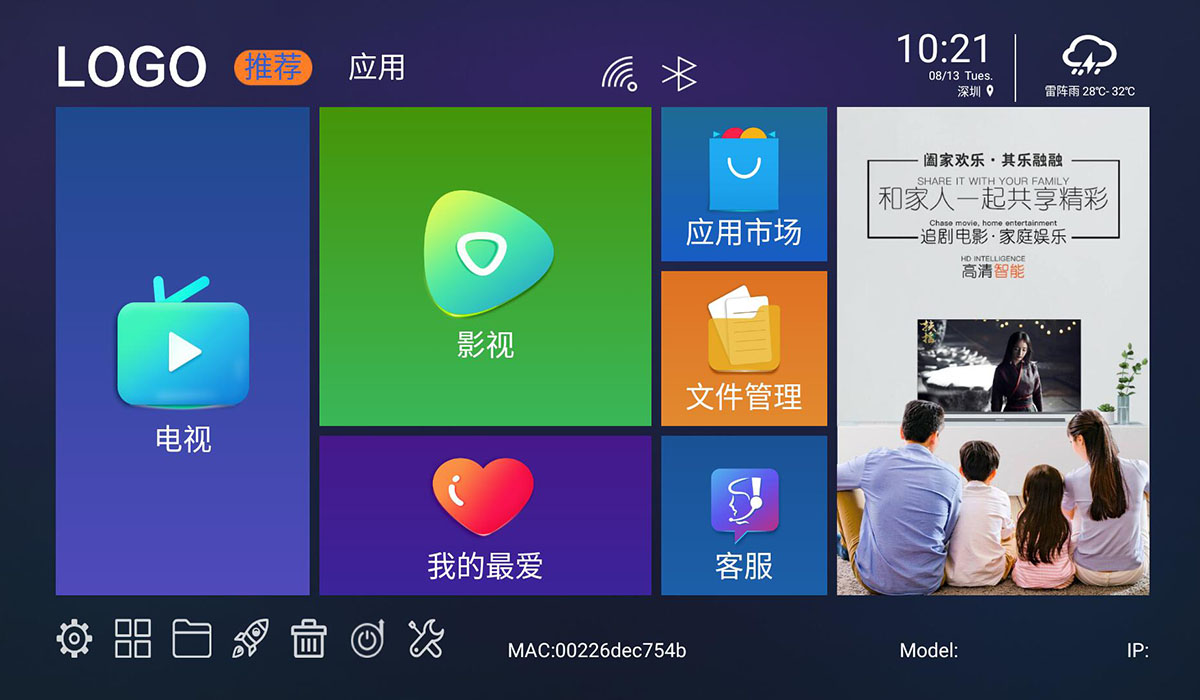 WE ARE OFFICIAL 100% ORIGINAL PRODUCTION

HK, Taiwan, Japanese, Korean, Malaysia, SG, USA, Thailand, ID, etc.
Original components, supper quality, one-year assurance.
Language system: Chines, Korean, Japanese, Malay, English, etc.
Wifi wireless internet connection. Easy and simple installation.
With large storage capacity, more joy will be brought

EVPAD Tablet Eplay i8, 2G memory keeps stable operation. 32G storage capacity saves an entire show.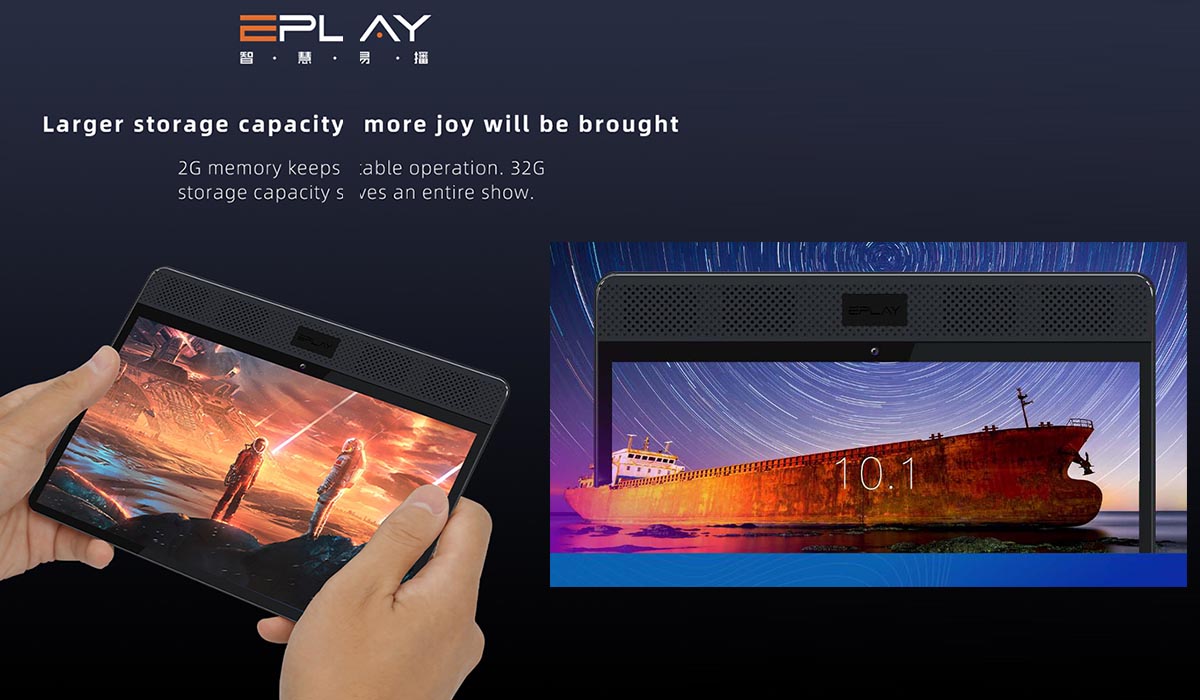 ​​​​​​
Easier play controlling, easier joy sharing
EVPAD Tablet Eplay i8 releases a 10.1-inch screen, making it a great experience on watching films.
Eight-core high performance, making film broadcast smoother
With an eight-core 64-bit super processor and cortex-A53 architecture, entertainment by blue light and large games will run smoothly.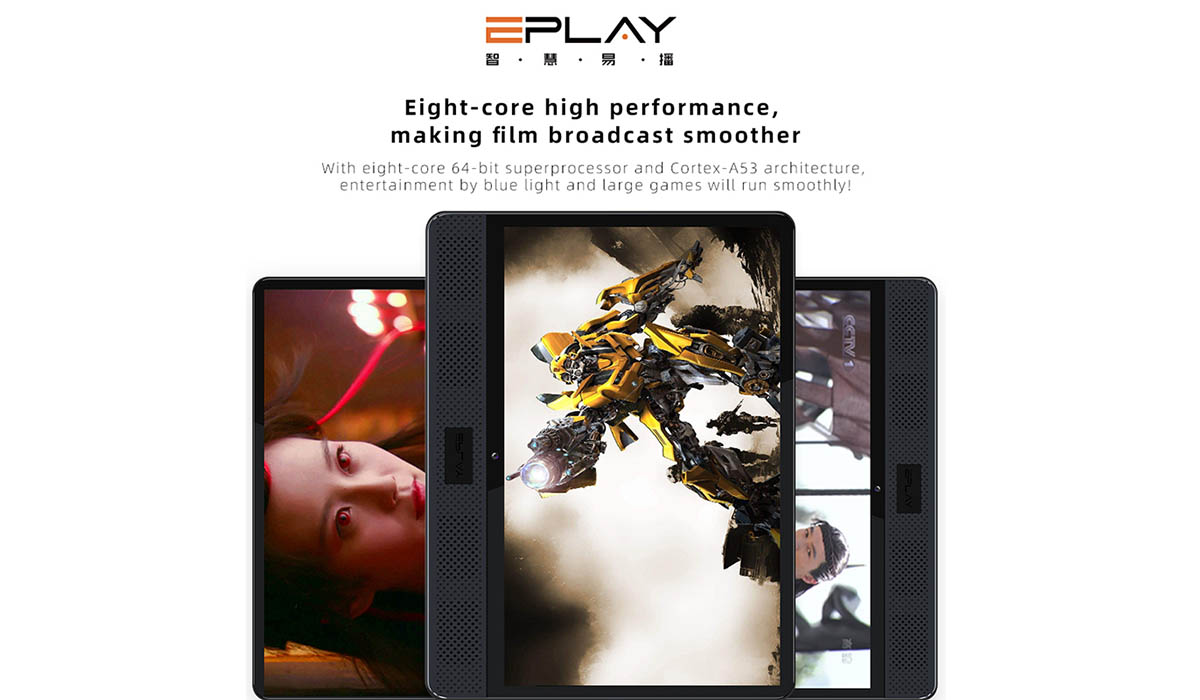 One machine dual-use. Once connected, it becomes a TV

EVPAD Tablet Eplay i8 is not only a pad but also a portable TV. It is convenient to watch favorite films and use the big screen to share happiness with your family, which is absolutely your choice of value.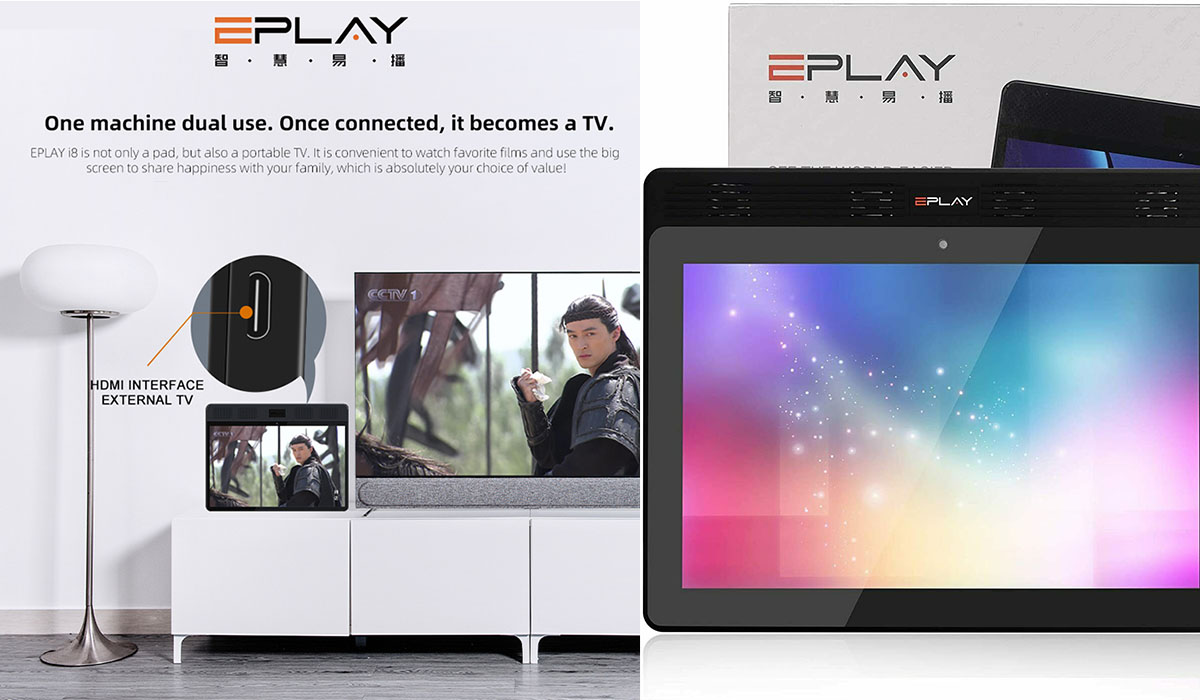 The needs to Watching films for a whole day.
Superpower makes you don't need to worry about a shortage of electricity and have a fun day no matter for playing games, listening to music, or watching movies.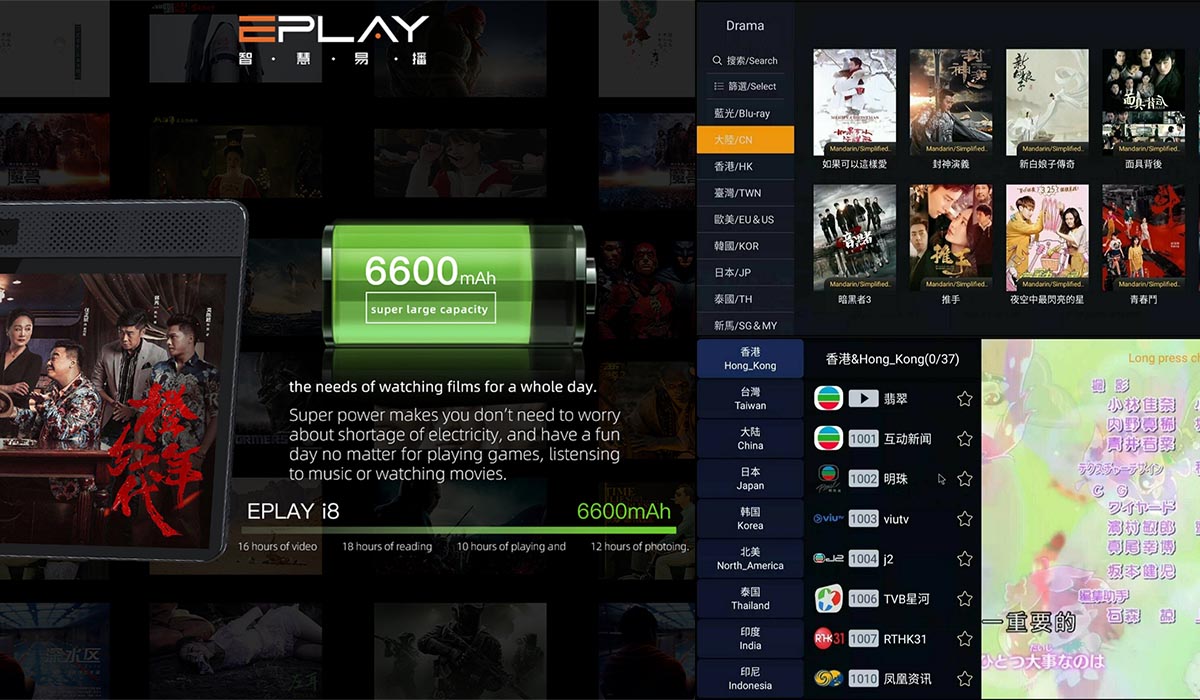 The 10.1-inch screen is more pleasant to watch films and play games
Although not delay to see the film on the small screen, but it will be cooler to use a big one.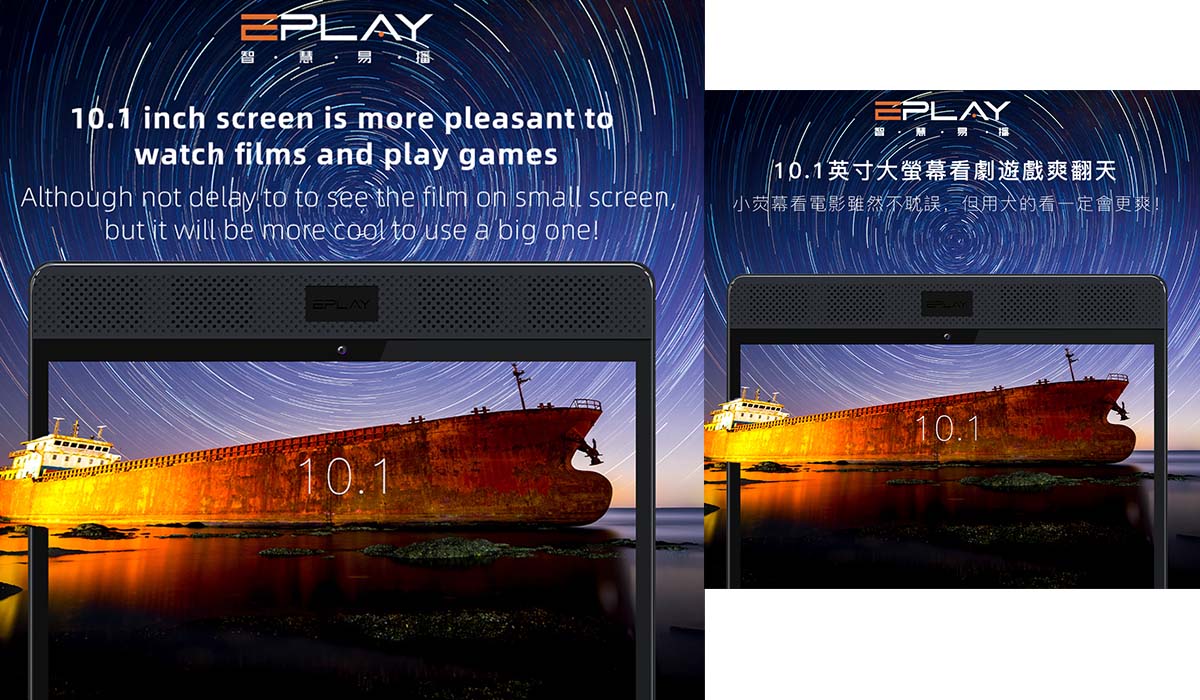 Four hi-fi stereos are loud enough and the sound quality is good
2W high-fidelity speaker, stunning, brings you the super cool experience of the scene.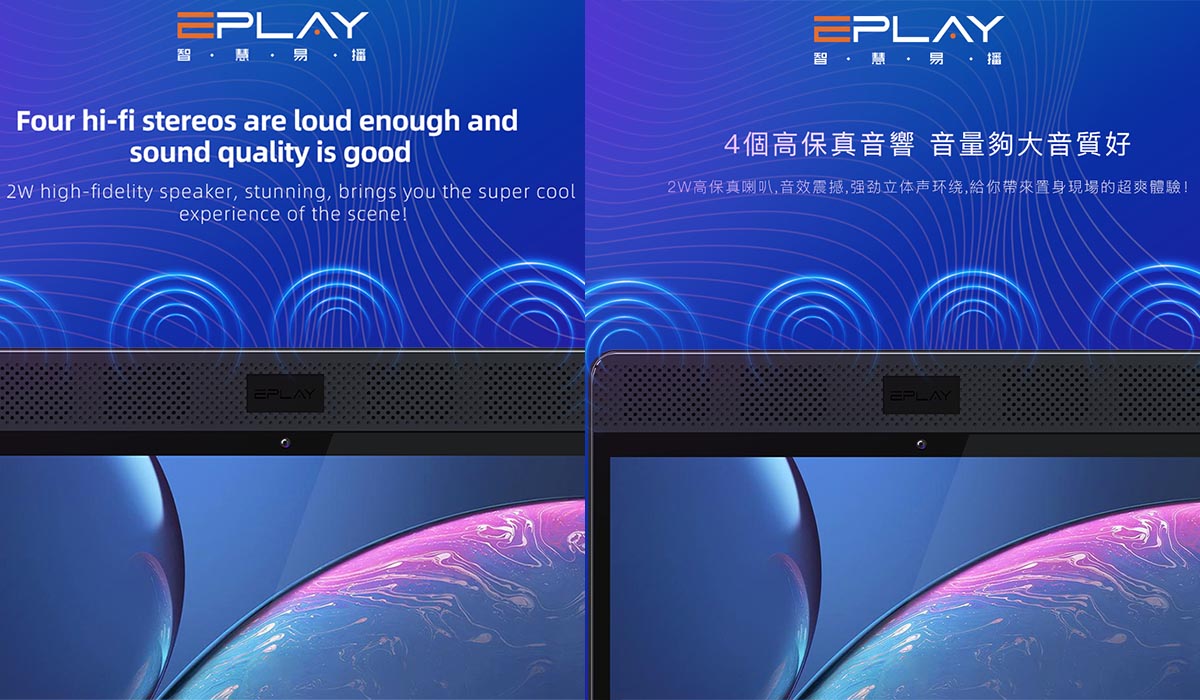 Massive films update every day and wonderful joy continues
2000+ Movie & Live Channels: The latest films, the most popular varieties, hit documentaries, and major sporting events. Use EPLAY i8m, we have everything you want to see.

National Channels Include: Hong Kong, Mainland China, Taiwan, North America, Japan, South Korea, India, Philippines, Indonesia,
Comprehensive Channels Include: News, Sports, Film, Children, Documentary, Music, Food, Football, Religious beliefs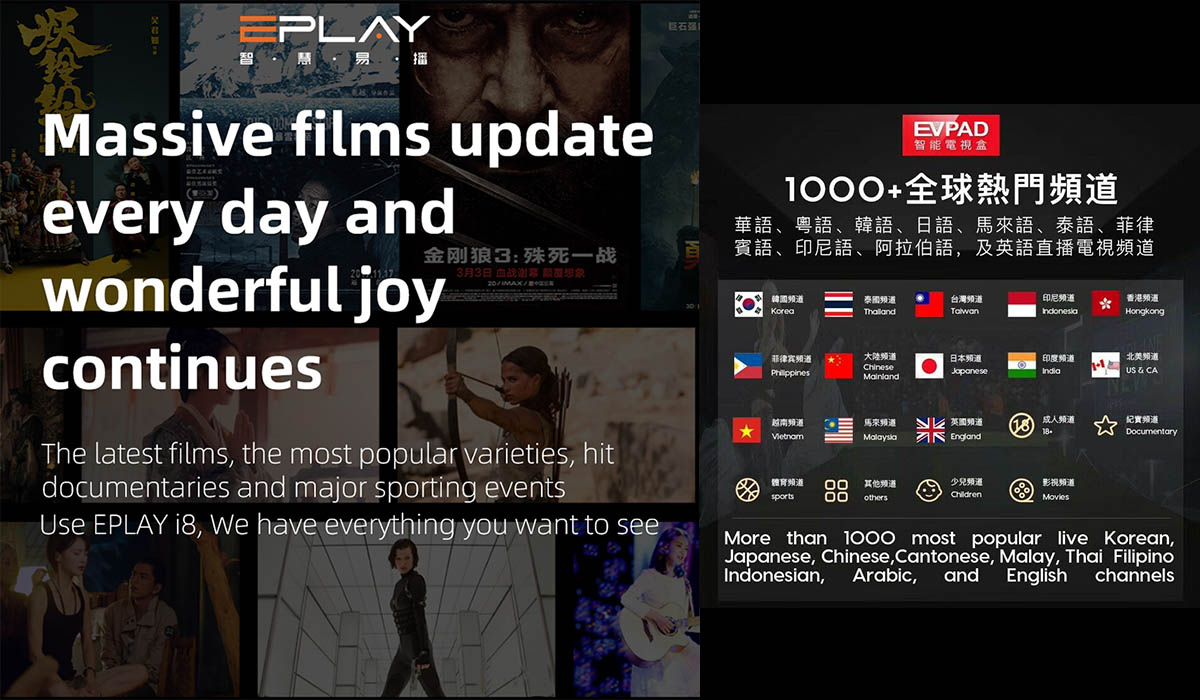 | | | | |
| --- | --- | --- | --- |
| GPU: | PowerVR G6110 | CPU: | Rockchip RK3368 Octa-core 64-bit |
| OS: | ANDROID | Video Output: | HDMI 1.4 |
| Bluetooth: | No | Memory: | 8G DDR3 |
| Internal Storage: | 32GB eMMC | Wireless: | No |
| Ethernet: | 100M | Model Number: | EVPAD Tablet i8 EPLAY |
| Remote Control: | Not Included | Weight: | 1.5kg |
| OTA Update: | NO | System Upgrade: | Yes |
| GOOGLE Cast: | NO | IPTV: | Yes |
| Power: | DC 5V,2A | Max. Extended Capacity: | TF Card Up To 32GB |
| Brand Name: | EVPAD | Feature 1: | lifetime free IPTV support 2.4/5G dual wifi BT |
| Feature 2: | for HK Tw Korea Japan Singapore AU NZ vs Evpad i7 tablet | Feature 3: | i8 Tablet set-top tv box |
Why buy from EVPADPro?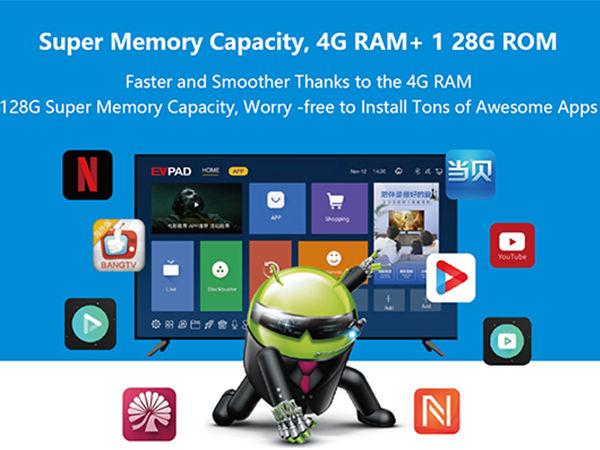 The World's 1st Voice -activated Al TV Box! A small box brings you a wonderful world.
A powerful 8-core processor is specifically designed for TV box. UP to 4G RAM + 128G ROM large storage, RF wireless RC. EVAI assistant.
2.4G/5.8G dual band and dual channel WiFi. 6K resolution, HDR technology, and Dolby&DTS audio bring a treat for your eyes and ears.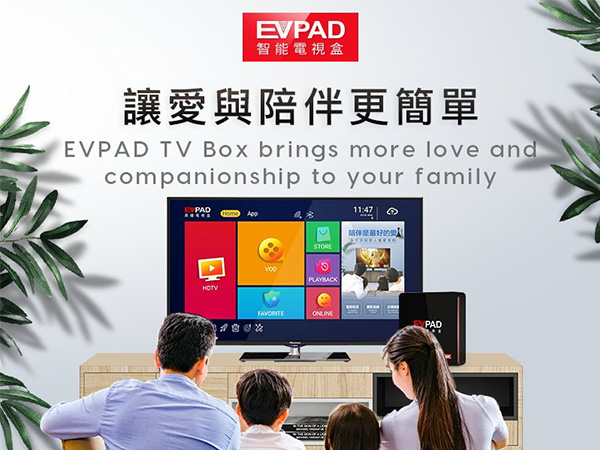 EVPAD TV Box brings more love and companionship to your family.
Massive genuine application matching, eight-core processor, the content is stable and smooth.
Global hot-selling blockbuster, hit TV series, simultaneous update. Have everything you need.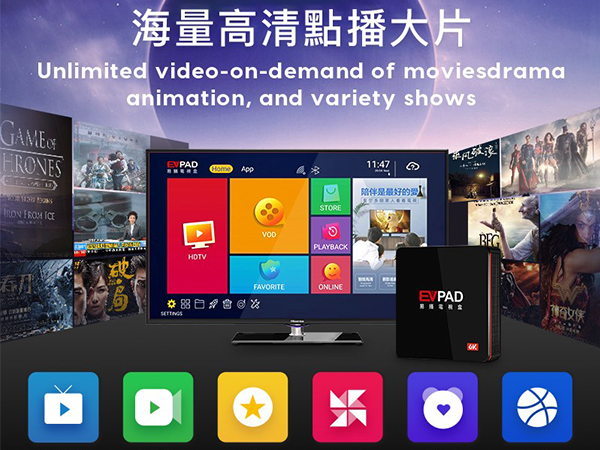 Unlimited video-on-demand of movies, drama, animation, and variety shows.
20000+ super-rich content video on demand, covering major mainstream channels around the world.
Global hot-selling blockbuster, hit TV series, simultaneous update. Have everything you need.
7*24 hours playback,Wonderful everywhere!
70+Time Shift,90+playback,More channels are being added!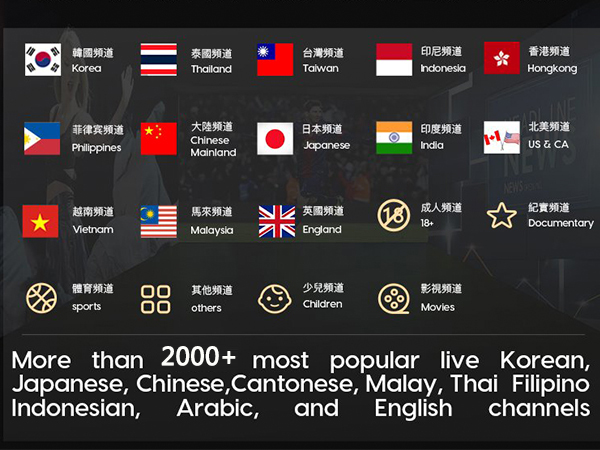 2000+ MOVIE & LIVE CHANNELS.
Covering major mainstream channels such as Mainland China, Hong Kong, Taiwan, USA, Canada, UK, Japan, Korea, Malaysia, Australia, etc.
Watch High Quality HD Free Live Sports TV Channels: NBA, NFL, MLB, NHL, UEFA, European Football, etc.
Watch High Quality HD Free Live adult movie channels,
18+ adult live TV programs.
PAY ONCE, FREE FOREVER!

Top 6 Advantages of EVPAD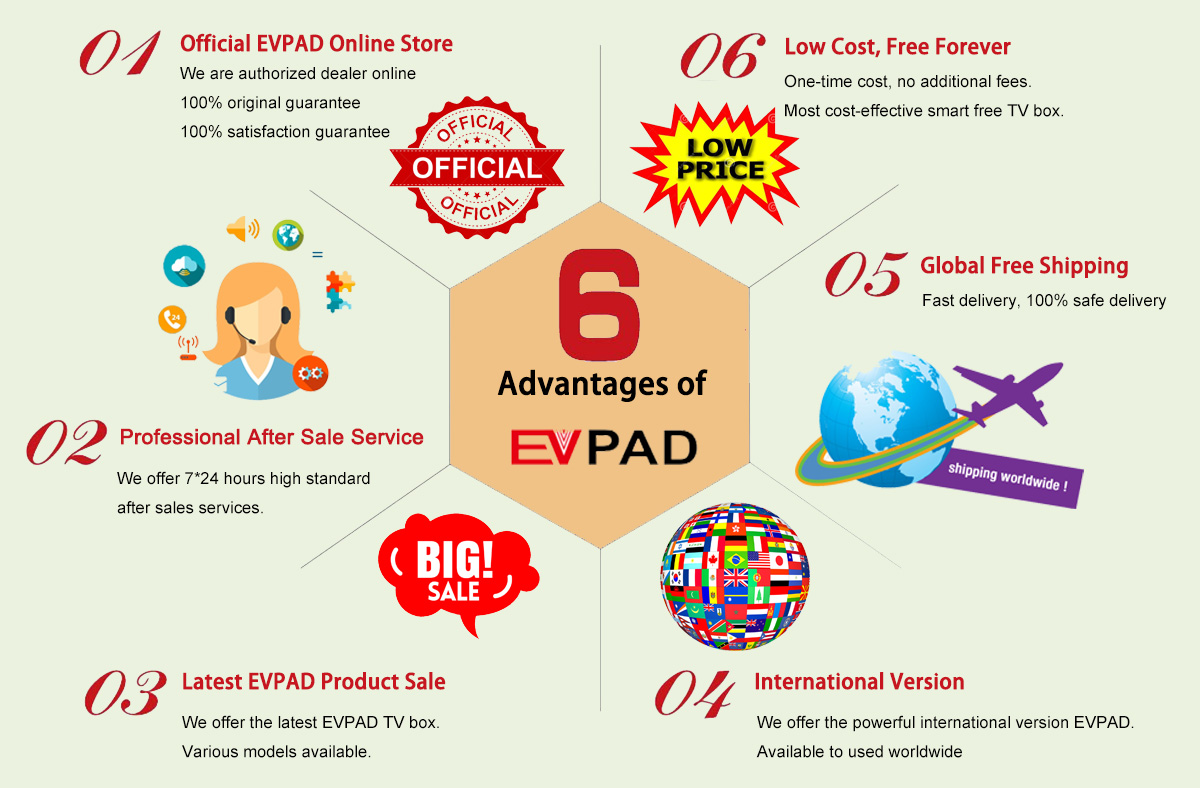 EVPAD & Other Brands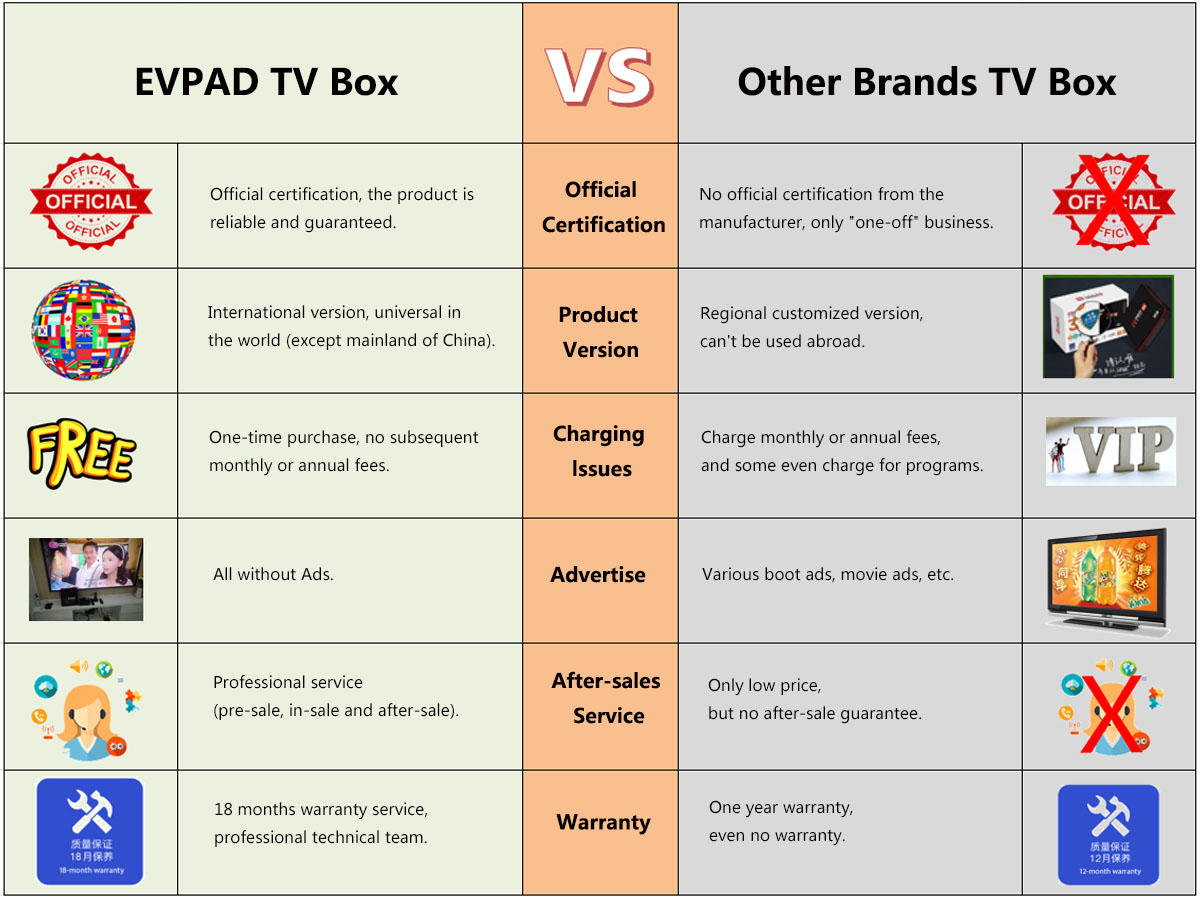 Excellent Customer Experience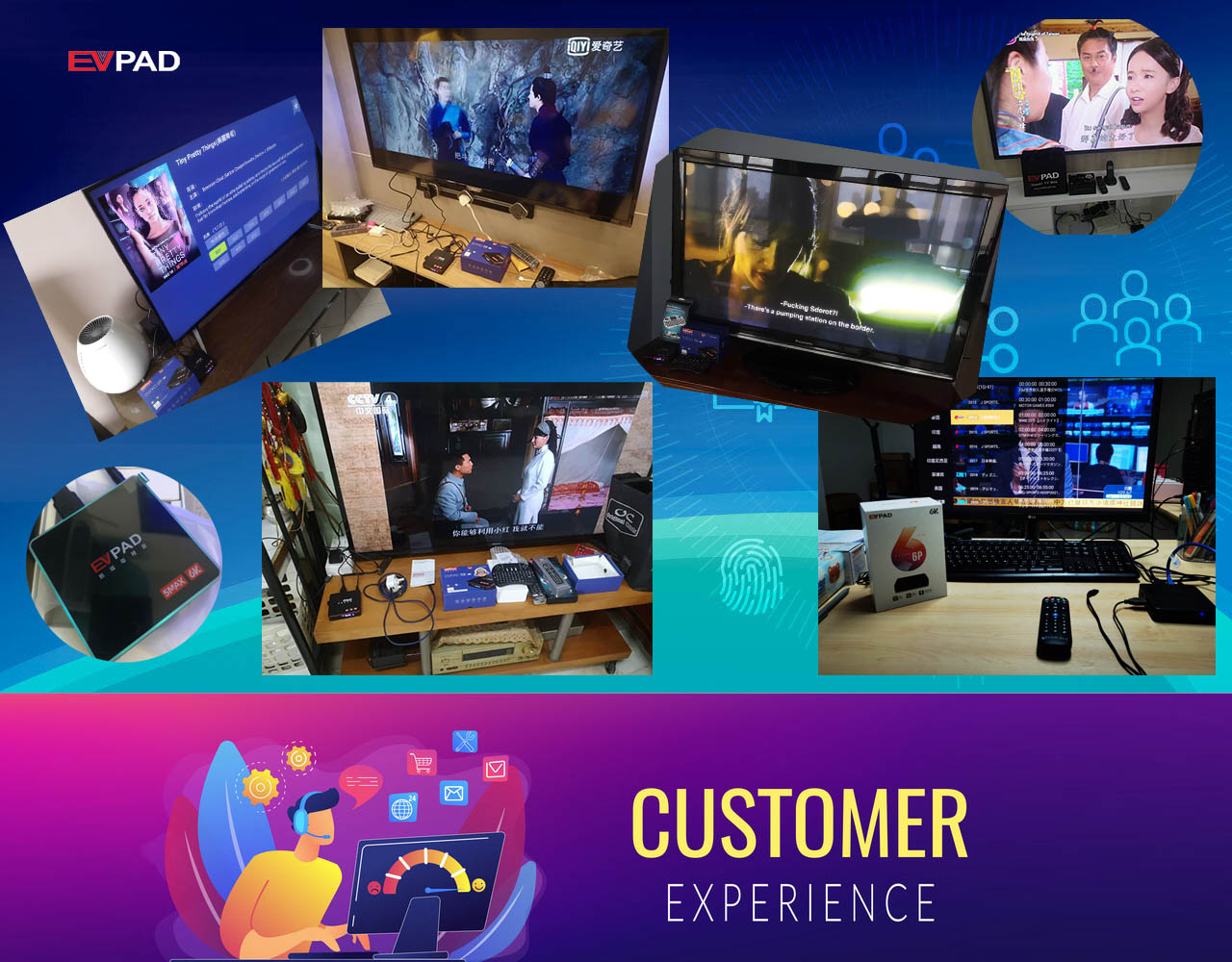 Professional Service Team
You will not have to worry about buying our EVPAD TV box.
Our after-sales team provides professional technical installation guidance and perfect after-sales service.
Everything will be simplified, it will be very easy to get started, come on, enjoy the fun of life starts from the
EVPAD TV box
.
If you need any assistance, please
Contact Us
freely. Thank you.